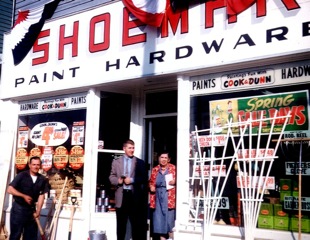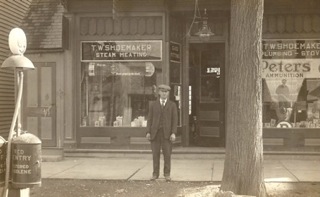 312 Wyoming Avenue was built in the mid 1800s. As an early business along the avenue, it was the location of James D. Green's store which sold seeds, feed, grain, oats and farming equipment.
A master plumber by trade, Thomas W. Shoemaker opened his hardware store in the building around 1908. The rent was $50 per month. Until his death in 1949, T.W. ran the business with the help of an assistant and his sister, Mariah.
The day after his passing, his youngest son, John Shoemaker took over the business at the age of twenty one. Already attending Wilkes University pursuing a business degree, he hired his mother, Eleanor who was a book keeper. John continued to grow the business and purchased the property in the 1950s.
By the 1970s both the building and the business were sold and became Snyder's Hardware. Two generations of the Snyder family operated the business until the early 2000's.
In the fall of 2011, the building returned to the Shoemaker family when Jamie and Jenni Smith purchased the building from Luzerne Bank and opened an art gallery. As a tribute to Jamie's great grandfather, they decided to name the business T.W. Shoemaker Art.